Housing annual report
2020 to 2021
Despite the COVID-19 pandemic presenting us all with sometimes very challenging situations both on a personal and service delivery basis, our service to residents was maintained during 2020/21 in line with Government guidance.
COVID-19 had a significant impact on the delivery of our front-line services across Housing, both in terms of planned service delivery and performance against key performance indicators and targets. However, throughout our focus was keeping our tenants safe and supported.
From April 2020 the impact of the pandemic affected the ability to provide our normal services. During the lockdowns we initially provided essential repairs only in line with the guidance provided. This resulted in a backlog of work to catch up on. As we moved out of the first lockdown and recommenced general repairs, we have been addressing the backlog of repairs which is now almost back to normal levels.
We also adapted our services in line with Government guidance keeping our tenants and staff safe, with many of our staff who could not deliver their normal duties switched over to providing humanitarian support to support our most vulnerable tenants. We made a commitment that nobody would lose their home because of coronavirus and took a supportive approach to help residents who were at risk financially as a result of the pandemic.
We have continued to listen carefully to your views, and we've made lots of important changes and improvements which will benefit many of our tenants.
These include investing in things that are important to you such as building more affordable homes, making your homes and neighbourhoods safer, simplifying our complaints policy and process and giving more choice in the ways you can get involved in sharing your views about the services you receive.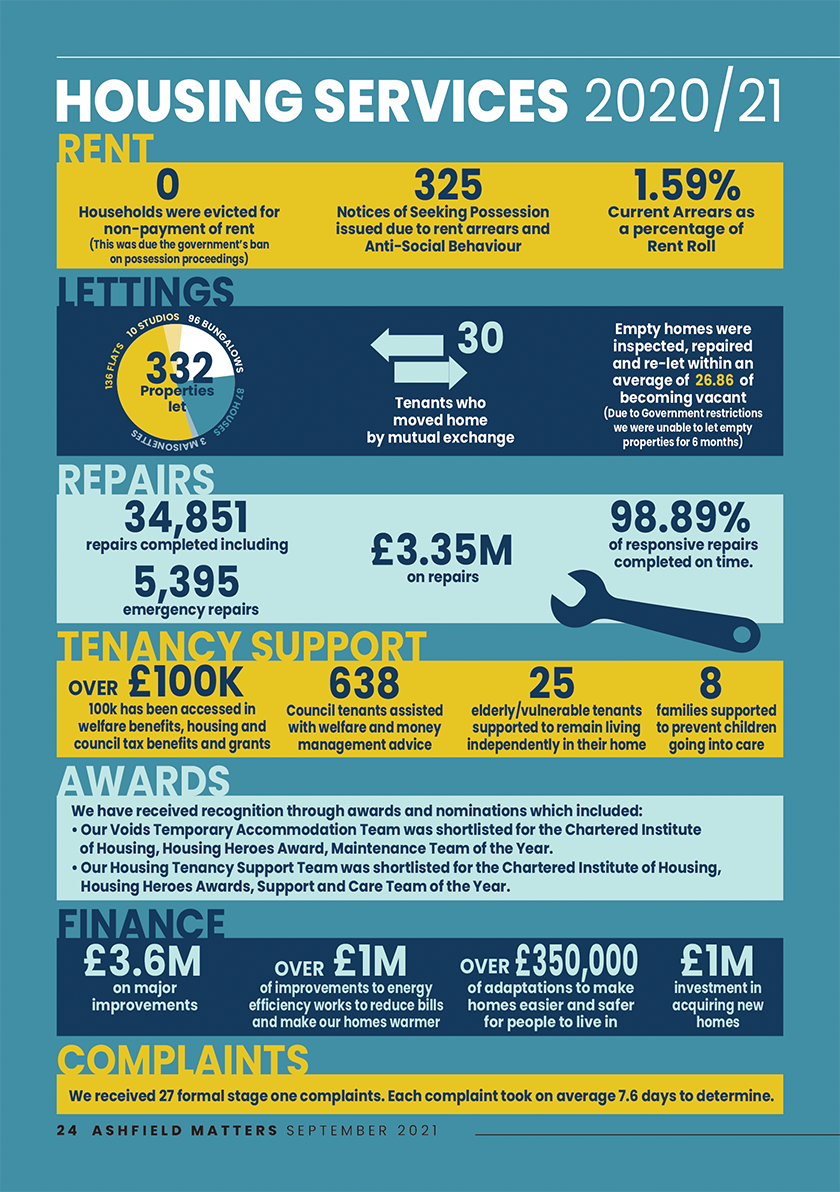 Through the year 2020/21 we:
Adapted and changed service delivery to a more agile model across all aspects of the Housing Service to meet the needs of tenants and employees during the COVID-19 pandemic and lockdown
Produced a revised Housing Complaints Policy following an assessment against the Housing Ombudsman Complaints Handling Code
Developed an action plan to deliver against the Social Housing White Paper
Put a temporary cessation on major works activity to meet COVID-19 guidance, however we were one of the first in the country to resume major works programme in June 2020, subsequently reacting to changes in the guidance from this date
Were successful in bidding for Green Homes Grant Funding which brought in over £1m so far to reduce carbon emissions to socially and privately owned domestic homes
Implemented new methods of service delivery across the Repairs Service to enable more accurate and dynamic repair job allocations
Re-procured a range of repairs and maintenance contracts including the Major Works contract to ensure continuation of service delivery
Continued delivery of new properties (we have added 8 additional units to the social housing stock (5 purchases and 3 new build)) to work towards the target to build 100 new homes over 5-year period
Spent (despite the restrictions of the pandemic) near £8.5m on improving your homes.
In our latest annual Survey of Tenants and Residents carried out in the summer of 2020, 90.67% of respondents say they are satisfied with the service provided.
We are incredibly proud of this achievement and very thankful of your view of the service, but we don't take this for granted and will continue to engage with you as our customers on how to improve the services we provide.
We already have plans in place to:
Review our Tenancy Agreement and introduce a new version that is up todate and meets operational and legal requirements and protects both tenants and the Council as landlord
Review our Tenants Handbook
Develop our Pre-Tenancy Support Service
Further develop our approach to transforming our agile housing services across our housing management, repairs and lettings teams
Deliver against the action plan to meet the challenges set out in the Social Housing White Paper and continue to monitor the key risks and regulatory standards
Produce and commence implementation of Housing Strategy
Increase the housing stock including the Hucknall in-fill affordable housing development and further planning for the Kirkby area
Install Communal Heating to a number of courts across the district
Implement and then mobilise the new Major Works contract, including the delivery of multiple programmes of work (e.g. Heating, Windows and Roofing)
Continue to bid for Government funding to improve the energy rating of the Council's Housing stock and the wider district where possible
Complete any backlog of postponed repairs following cancellation as part of the Covid-19 Pandemic
Spend over £6 million in improving your homes.
We would like to thank all the tenants, staff and volunteers who have gone above and beyond to help others and provide support during lockdown and the pandemic. The strength of compassion and community spirit has been amazing, and we are incredibly proud of our communities and our staff.
We have also received some national recognition for our work which illustrates the hard work that was being undertaken at the time:
Our Voids Temporary Accommodation Team was shortlisted for the Chartered Institute of Housing, Housing Heroes Award, Maintenance Team of the Year
Our Housing Tenancy Support Team was shortlisted for the Chartered Institute of Housing, Housing Heroes Awards, Support and Care Team of the Year.
Lettings
Our Lettings Service is responsible for the allocation of our Housing stock. We have 6,632 properties and have 3,810 people on our waiting list. As less than 400 properties become available to let each year demand is high and supply is low. Vacant properties are advertised on a weekly basis for applicants to express an interest in. The shortlisted applicants for each property are prioritised in order of their priority banding. We do this through our online Choice Based Lettings scheme called Homefinder. This is available at www.amhomefinder.co.uk
During 2020/21 the service was both affected by fewer properties becoming available as people were unable to move, whilst Government guidance meant we were unable to let properties for a number of months. The team did however focus on achieving the Government's 'everyone in' initiative which set us the challenge of accommodating all homeless people during the height of the pandemic. We also took the opportunity to enable some of our tenants to 'downsize' from family sized accommodation in to smaller and more manageable bungalows.
Properties let in 2020/21
332 properties were let in 2020/21 at an average of 26.86 days for standard voids.

Of the properties let to the waiting list:
30 applicants were in Band 1 'emergency' need
97 in Band 2 'urgent' need
63 in Band 3 'low' need
1 in Band 4 'demoted' applicants
41 in Band 5 'no' housing need.
The 332 properties let to applicants from the waiting list included 96 bungalows, 87 houses, 136 flats, 3 maisonettes and 10 studio flats.
Mutual exchanges
In 2020/21, 30 tenants moved home by way of mutual exchange.
Tenancy Services
Collecting Rent
Rent is our main source of income. If we don't collect rent, we have less money to spend on the upkeep, management and repair of our properties. Whilst collection of rent may be seen as an emotive issue, with no profits or shareholders to pay, it does really come down to, the more rent we collect, the more money we have available to pay for services and repairs. With this in mind we also provide a hard-working advice and support team who can help any tenant who falls into difficulty in paying their rent.

Despite the impact of Universal Credit/COVID-19, presenting many challenges to tenants, in particular with fluctuations to people's financial circumstances and the challenges the Council faced in collecting rent, we have maintained strong rent collection levels which have met target and performed at a top quartile level against other similar organisations as bench marked by Housemark who collect, monitor and compare the performance of the vast majority of social housing providers.

The increasing numbers of tenants believed to be claiming Universal Credit continues to impact on the collection levels. Current tenant rent arrears apportioned to tenants believed to be claiming Universal Credit accounted for 68% of the overall current tenant rent arrears at the end of the financial year. However, only 26% of tenants were believed to be claiming Universal Credit.
Current Tenant Arrears
| | | | |
| --- | --- | --- | --- |
|   | Performance | Target | Housemark Quartile Position |
| 2020/21 | 1.59% | 1.6% | This places us in top quartile against a peer median of 2.28%. |
| 2019/20 | 1.47% | 1.3% | Top quartile position based on Housemark's 2018/19 benchmarking performance of less than 1.51%. |
Our target for 2021/22 is 1.6%
In 2020/21:
325 Notice of Seeking Possession were issued to tenants due to rent arrears and tenancy issues
No tenants were evicted for non-payment of rent. This was due the government's ban on possession proceedings.
Tenancy Support
 In 2020/21, the Housing Service has worked to deliver outcomes for our customers with:
Over £100k has been accessed in welfare benefits, housing and council tax benefits and grants and white goods from charitable trusts for tenants
638 Council tenants assisted with Welfare and Money Management Advice
199 Council Tenants provided with Tenancy Support of which:

11 were prevented from being evicted
56 were assisted with support to connect essential utilities e.g. gas/electric
25 elderly or vulnerable tenants were supported to remain living independently in their own home e.g. prevented from being rehoused into care homes or supported accommodation
a total of 8 families were supported throughout the year to prevent the children going into care and to access additional support for the children
12 identified as being in fuel poverty and were supported to obtain grants and other support  from utility companies.

100% of tenants in their tenancy after 6 months, following the completion of the support package provided by the Tenancy Sustainment Officers.
Tenant Involvement:
Our services are all about tenants and we would like you to have your input in to our policies and procedures. Getting involved in our resident groups is both rewarding, and you can actually see how your views and suggestions shape our service.
During 2020/21:
We reviewed and developed our Tenants Charter
We developed a Customer Opinion Influencing Network (COIN)
We held virtual Tenant Gateway Meetings with our involved tenants.
Repairs and Maintenance Section
Property repairs is our busiest service, we appreciate that having something go wrong or break in your home can be frustrating and so we aim to offer a service which is both easy to get through to and prompt in attending to the property at your convenience.
We have adapted the Property Health & Safety Check / Service to ensure that these essential checks continued to be completed throughout the Pandemic. Despite the numerous lockdowns we were still legally required to complete gas servicing activities and in order to do this we worked closely with tenants who had concerns about us entering their home and provided reassurance of the safety measures that we, and our Servicing Partner, were able to undertake.
During 2020/2021 our Repairs Service performed as follows:
All repairs
34,851 repairs completed
Including 5395 emergency repairs
Responsive only
23,294 repairs completed
Including 5395 emergency repairs
Average time taken to complete repairs
5.01 calendar days per property
Repairs completed on time
Repairs completed on time – 97.99% (All Repairs)
Repairs completed on time – 98.89% (Responsive only)
Repairs Call Handling Centre
Total calls received – 35,660
Total calls answered – 34,923
97.99% calls answered
Average call ring time 28.67 seconds
Planned Improvements
Approximately £3.6 million was spent in 2020/21 on works, which made improvements to our homes including central heating, electrical rewires, windows, external doors, roof coverings, communal heating and wall finishes.
Customer Feedback
27 formal complaints received.
7.59 days was the average time taken when responding to a complaint, a reduction in nearly a day on average to resolve each complaint from the previous year.
Learning from feedback
Over the past 12 months, we continue to learn following feedback from tenants. Listed below are some examples of how we have taken on feedback from our tenants and used this to make a positive difference across the services we provide.
| Feedback | How we have improved our service |
| --- | --- |
| Some of the SMS messages we were sending out to book in and carry out repairs was not clear for tenants. | The Repairs team have reviewed and updated these SMS messages so that these reflect better when we will be attending to carry out the work. |
| We received some feedback about our Tenants Portal and how it was displaying some payments. | The Income team are working with our IT team to make changes to make the information shown to make this clearer. |
| The CCTV policy was unclear in relation to blocks of flats. | Following the feedback, changes were made to the policy.  |
| After discussing the rent account with a tenant, our officer felt that we needed to change one of our letters to communicate better information that the tenant needed to understand. | The Income team have reviewed and updated some of our rent letters to better communicate information to tenants. |
Finances
Last year, the rent you pay funded…
• £3.35 million on repairs.
• Over £1 million of improvements to energy efficiency works to reduce bills and make our homes warmer.
• Over £350k of adaptations to make homes easier and safer for people to live in.
• £1 million investment in acquiring new homes.