Housing strategy and research
We are committed to improving housing and housing services. On this page will you find copies of strategies that help us plan improvements to our service, and help make Ashfield a better place to live.
The team is responsible for responding to consultation on new housing policies from central Government and drafting any new policies needed locally.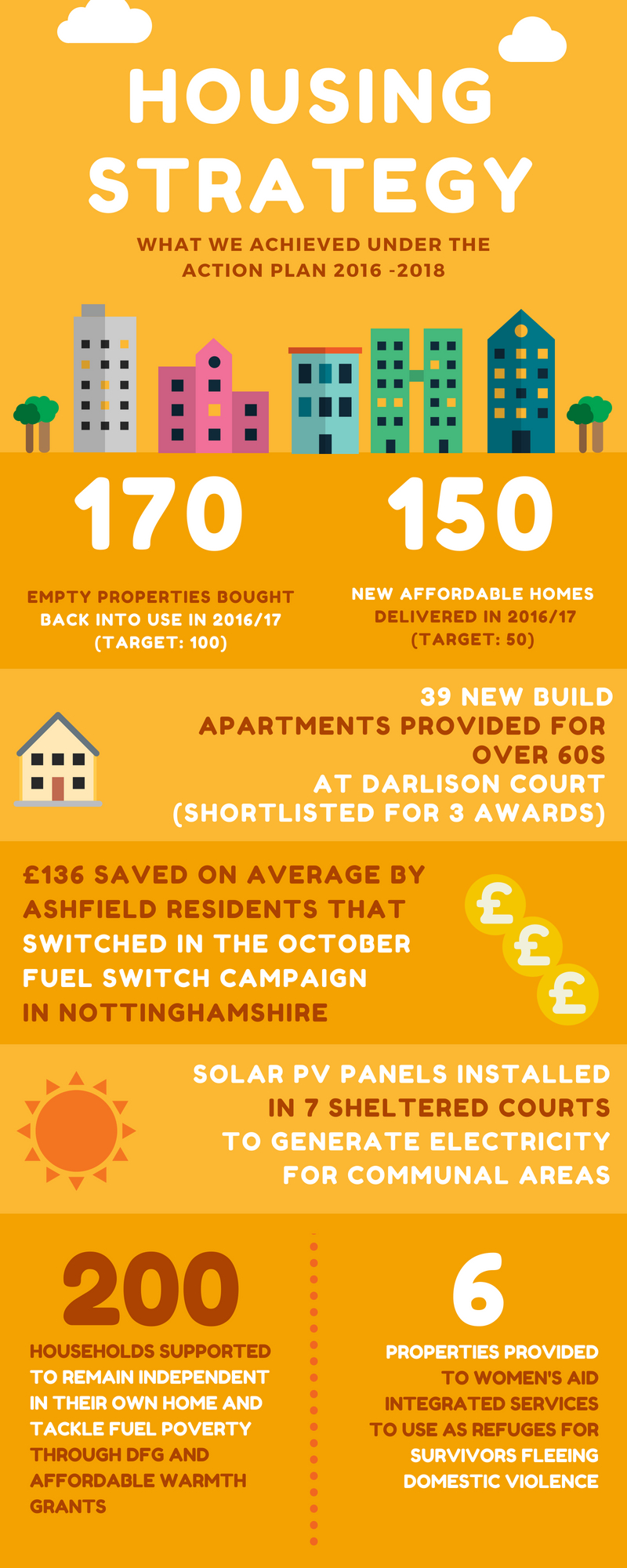 Strategic Housing Services
The Housing Strategy 2021-23 is the overarching document setting out the Council's housing priorities for the coming years. The strategy is underpinned by 4 specialist sub-strategies each of which has a bespoke action plan.
Affordable Housing Delivery Strategy 2019-2021
This is our first Affordable Housing Delivery Strategy and it aims to:
Private Sector Renewal Strategy 2019-2021
The private sector (owner occupier and private rented sector properties) make up 84% of the total housing stock in the district.
Councils have a number of legal obligations and powers regarding the condition of private sector homes (including caravan residents), including a range of new measures that have been introduced during 2018.
A report modelling the condition of private sector homes in Ashfield was prepared by the Building Research Establishment, which identified that between 16-19% of homes have a Category 1 hazard under the Housing Health and Safety Rating System.
In recognition of this, this Strategy has been created to address the number of non-Decent homes in the sector, the number of empty homes, the health and wellbeing of private residents and the health, safety and welfare of caravan residents. This Strategy is one of 4 strategies that underpin our Housing Strategy and tackle the key issues required to deliver our housing vision.
This Strategy is supported by the Private Sector Renewal Policy that describes that assistance available from us to improve private sector housing conditions. 
Strategic Tenancy Strategy
The Strategic Tenancy Strategy provides guidance that we encourage all social housing providers operating within the district to follow when they provide tenancies to applicants. Linked to this tenancy strategy is the Homefinder Lettings Policy that sets out the rules for letting social provider properties in the Ashfield and Mansfield districts.
Housing research
One of our strategic housing responsibilities is to assess and plan for the housing needs of local people across all tenures, and to do this we carry out and commission research to inform our future plans and strategies.
Some research we commission jointly with neighbouring authorities or county wide as this gives good value for money, and larger studies often can give us more confidence in the results. 
During 2018, we worked alongside Gedling, Rushcliffe and Broxtowe Borough Councils to commission a review of the housing options for young people:
The Local Government Association made the following report available in 2019: