Tree works and preservation
We make Tree Preservation Orders (TPOs) in the district. They can apply to one or more trees where they make an important contribution to their surroundings and where they may be under threat from possible development.
The owners of the land on which there are trees covered by a TPO are responsible for their care. This also applies to trees in conservation areas.
If a protected tree is destroyed or damaged without permission, both the owner and the person responsible can be prosecuted and fined up to £20,000. Other offences carry a fine of up to £2,500.
Apply for works to a protected tree or a tree in a conservation area
You will need written permission from us if there is a need to cut down or carry out tree surgery to a tree covered by a TPO or a tree in a conservation area.
To request work to be done on a protected tree, an application will need to be submitted online through the Planning Portal.
For further information on how to submit a planning application please see the apply for planning permission web page. 
Check whether a tree is protected or within a conservation area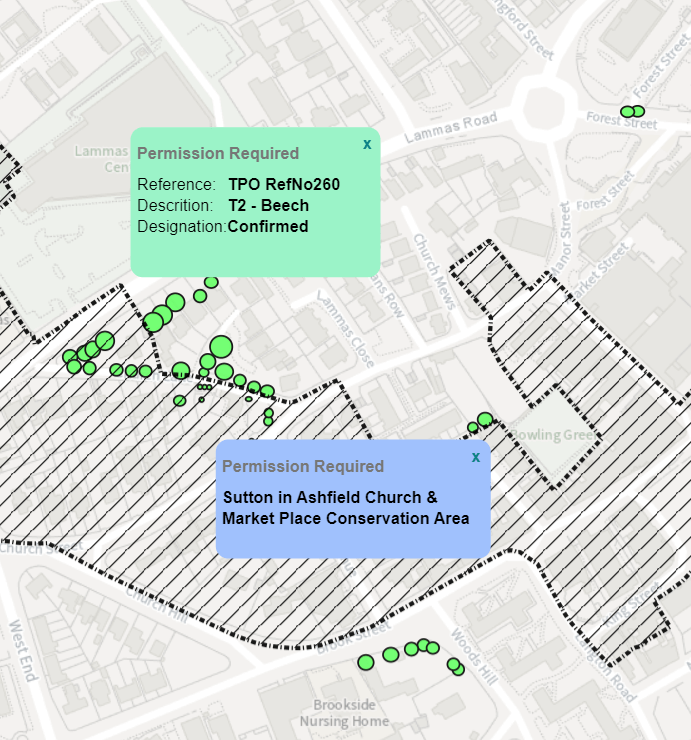 To find out whether a tree is protected by a Tree Preservation Order or is in a Conservation area, please use our online mapping system.
Use the Address Search to check if a tree will require permission before any work begins.
Requesting a tree preservation order
If an important tree is believed to be under threat (such as because of neglect or because of development nearby) a request can be made to us for a preservation order to be placed on the tree or trees.
You will need to write to us with a sketch plan clearly showing where the tree is and explaining why you think the tree or trees should be protected. We will then inspect the tree and assess whether it warrants a protection order being placed on it.
Write to us with your request and sketch plan to: 
Planning Department
Ashfield District Council
Urban Road
Kirkby in Ashfield
Nottingham
NG17 8DA.