Ashfield Careers Fair 2022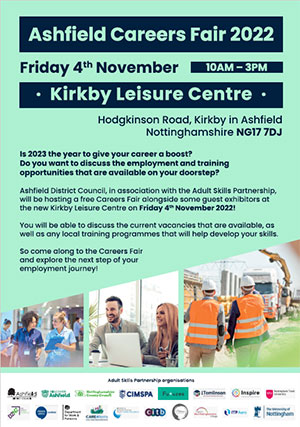 Ashfield Careers Fair
Friday 4 November 2022
Kirkby Leisure Centre
Hodgkinson Road
Kirkby in Ashfield
NG17 7DJ
Ashfield District Council, in association with the Adult Skills Partnership, will be hosting a free Careers Fair alongside some guest exhibitors at the new Kirkby Leisure Centre on Friday 4 November 2022.
Download a copy of the careers fair event information (not accessible).
Event Sponsors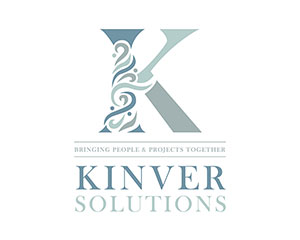 Kinver Business Solutions Ltd offer a bespoke Project and Programme Management solution-based service to clients, providing guidance throughout the project lifecycle.
They are adept at developing projects from conception, through the various milestones to final evaluation and legacy planning. Kinver Business Solutions are also highly accomplished at stepping into failing projects, understanding the challenges, and delivering pragmatic and innovative solutions.
Careers Fair exhibitors
| Name of organisation | Sector |
| --- | --- |
| Acacia Training Ltd | Training |
| Age UK | Training |
| Amazon | Transport and Logistics |
| Amberstone Security | ICT |
| Ashfield District Council | Public sector |
| Ashfield Springs Ltd | Manufacturing |
| Ashfield Voluntary Action (AVA) | Training |
| ATTFE | Training |
| Available Car Ltd | Retail, Hospitality and Visitor Economy |
| Brightwake Ltd | Manufacturing |
| Care4Notts | Training |
| Change Grow Live | Training |
| Chesterfield College | Training |
| Citizens Advice Ashfield | Training |
| Cygnet Health Care | Healthcare and Life Sciences |
| Department for Work and Pensions | Public sector |
| DFS | Manufacturing |
| East Midlands Chamber of Commerce | Training |
| Essential Recruitment Ltd | Training |
| Everyone Active | Sport and Leisure |
| Fosse Healthcare | Healthcare and Life Sciences |
| Fresh Start Recruitment (UK) Ltd | Training |
| Futures | Training |
| Hovis | Manufacturing |
| Ingeus | Training |
| Innova House Health Care Limited | Healthcare and Life Sciences |
| Insight Healthcare | Training |
| Inspire | Training |
| ITP Aero | Manufacturing |
| J Tomlinson Ltd | Construction |
| Kier Construction Ltd | Construction |
| Kinver Business Solutions Ltd | Construction |
| Mansfield CVS | Training |
| Matthews & Tannert Ltd | Construction |
| Mitchell's of Mansfield Ltd | Transport & Logistics |
| Morestarts - Engineering Recruitment and Training Solutions | Training |
| Nottingham Community Housing Association (NCHA) | Training |
| Nottingham Trent University | Training |
| Nottinghamshire County Council | Public sector |
| NSL Services Ltd | Governmental |
| Orbital Recruitment Ltd | Training |
| Our Centre | Transport and Logistics |
| Parker Knoll | Manufacturing |
| Peak Home Assist | Healthcare and Life Sciences |
| Personnel Solutions (Midlands) Ltd | Training |
| Peter Smythe Transport Training | Training |
| Platinum Training Centre | Training |
| Portland College/Pathways | Training |
| Prolog Fulfilment Ltd | Transport and Logistics |
| Prostart Training | Training |
| QDOS Training | Training |
| Quality Service Recruitment Ltd | Training |
| Red Rock Partnership Ltd | Training |
| Response-Able Solutions Ltd | Transport and Logistics |
| Robinson Packaging | Manufacturing |
| SDA Recruitment Ltd | Training |
| Sherwood Forest Hospitals NHS Foundation Trust | Healthcare and Life Sciences |
| Steve Soult Ltd | Manufacturing |
| Sure Screen Diagnostics | Healthcare and Life Sciences |
| Teachers UK | Education |
| Teversal Visitors Centre | Retail, Hospitality and Visitor Economy |
| The Two Counties Trust | Education |
| Trackwork Ltd | Training |
| Turbine Surface Technologies Ltd | Manufacturing |
| Tyler Bros Ltd | Manufacturing |
| University of Derby | Training |
| University of Nottingham | Training |
| Van Elle | Construction |
| Vaughandale Construction Ltd | Construction |
| West Notts College | Training |
| Whitemeadow Furniture Ltd | Manufacturing |